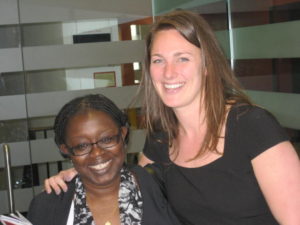 Fulbright Schuman Executive Director Erica Lutes set off for the United States on Wednesday, May 8 for a one-month educational tour that includes the EUSA and NAFSA conferences, as well as stops at universities in the Northeast region. At the European Union Studies Association conference (http://www.eustudies.org/conference.php?cid=8), Ms. Lutes presented a paper on "Advancing Diplomacy via the Fulbright Commission" with Angela O'Neill from the College in Europe in Bruges, Belgium, which receives an American Fulbright Schuman Scholar to lecture on US-EU affairs every other year (https://www.fulbrightschuman.eu/grants-for-us-citizens/grants-for-university-lecturing/). While at the conference, Erica also had the chance to meet with past, present, and future Fulbright Schuman scholars from America and the EU, spread information about the award to potential US host institutions, and learn about trends and upcoming concerns within EU studies that can be reflected in Fulbright Schuman programming efforts.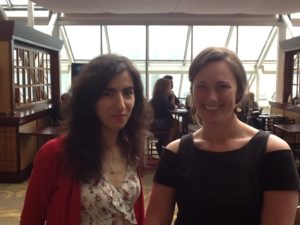 Dr. Adriana Bunea, a current Fulbright Schuman grantee at University of North Carolina Chapel Hill, attended the EUSA conference and met with Erica and IIE program officers there, as well.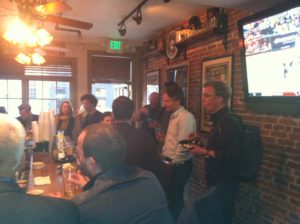 She says, "The 2013 EUSA conference was an excellent venue to present my current research and get high quality feedback from most well-reputed scholars in the field of EU studies. The panels in which I presented my papers were well attended and the academic debates were vivid and interesting.
The conference was also a great venue for networking and further developing my professional contacts. I meet my current collaborators and discuss our current research projects, while also establishing new professional contacts and discussing ideas for new joint research projects. In addition, the conference allowed me to meet with the Fulbright officers and to personally thank them for their support and great help in making my US stay a productive and interesting one. Overall, a great and fulfilling professional and personal experience that makes me look forward to the next EUSA conference."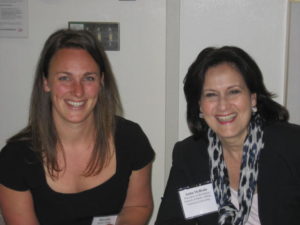 Over 60 participants came together after the conference for the Taste of Belgium networking event sponsored by Fulbright, College of Europe, and Stella Artois. Since the conference was in Baltimore, Erica also had the chance to stop by American University, where she spoke to 30 people representing over 7 universities, 4 states and the District of Columbia about the Fulbright Schuman award.
There, she also had the chance to meet with William J. Fulbright Foreign Scholarship board member Anita McBride to discuss the issue of Fulbright candidates and alternates applying to more than one Fulbright program in any given application cycle. The decision to allow candidates to apply to the Fulbright Schuman program in addition to their home country program (and only accept one offer) is positive, but still pending.